Contact & FAQ's
WHAT IS ROSE FLOWER ESSENCE?

Rose Flower Essence is the  imprint of roses harvested and placed in pure spring water at the height of their bloom. The rose petals are infused by floating them in water underneath the sun's rays, the water then carries the vibrational energy of the rose. This infusion is then preserved with alcohol or apple cider vinegar and diluted into stock bottles to be taken as drops under the tongue.
As water holds the imprint of memory, intention and flower or plant, this water provides a healing effect within our body. Scientists such as Masaru Emoto have now been able to confirm this to be true.
The Philosophy Behind Flower Essences
In Western Herbal Medicine it is known that a flower or plant holds a different energy that can be used to influence or shift deep patterns in our physical and emotional state. Flower Essences help us to release emotional programs that prevent us from  living a healthy and enjoyable life. The Philosophy behind Flower Essences is that specific flower's and plants helps us to release emotional programs that prevent us from connecting to the heart of who we are.
The Philosophy Behind Rose Flower Essences
The Healing Property of the Rose, "rosa" is "Love" which primarily supports our heart through heartbreak, heartache, self worth, grief and anxiety. 

FAQ's
Is Rose Flower Essence an Essential Oil?

No. Rose Flower Essence is different from Rose essential oils as they contain no scent and no oil.
Can children have Rose Flower Essence?

Yes, however, we advise to minimise the dosage to only 3 drops a day.
Do your essences contain alcohol? If so, can this be harmful? Can I order alcohol-free essences?

We preserve our Rose Flower Essences with Honey Liqueur at an alcohol level of 35% per volume. This ensures they retain their potency for 10 years.

Like most homeopathic medications, ours are preserved in alcohol. When used as instructed, the quantity of alcohol consumed will always be less than one milliliter (1 ml/0.034 oz) per day, and in most cases, far less.

If it reassures you, certainly consult with your doctor or physician before purchasing our essences.
Can I order alcohol-free Rose Flower Essences?

While we don't recommend it, we can prepare these essences without alcohol. Please contact us at wecare@rosefloweressence.com to place your order.
Does Rose Flower Essence soothe emotional turmoil?

Yes. Rose Flower Essence supports the heart specifically during times of Heartbreak, Grief and Loss.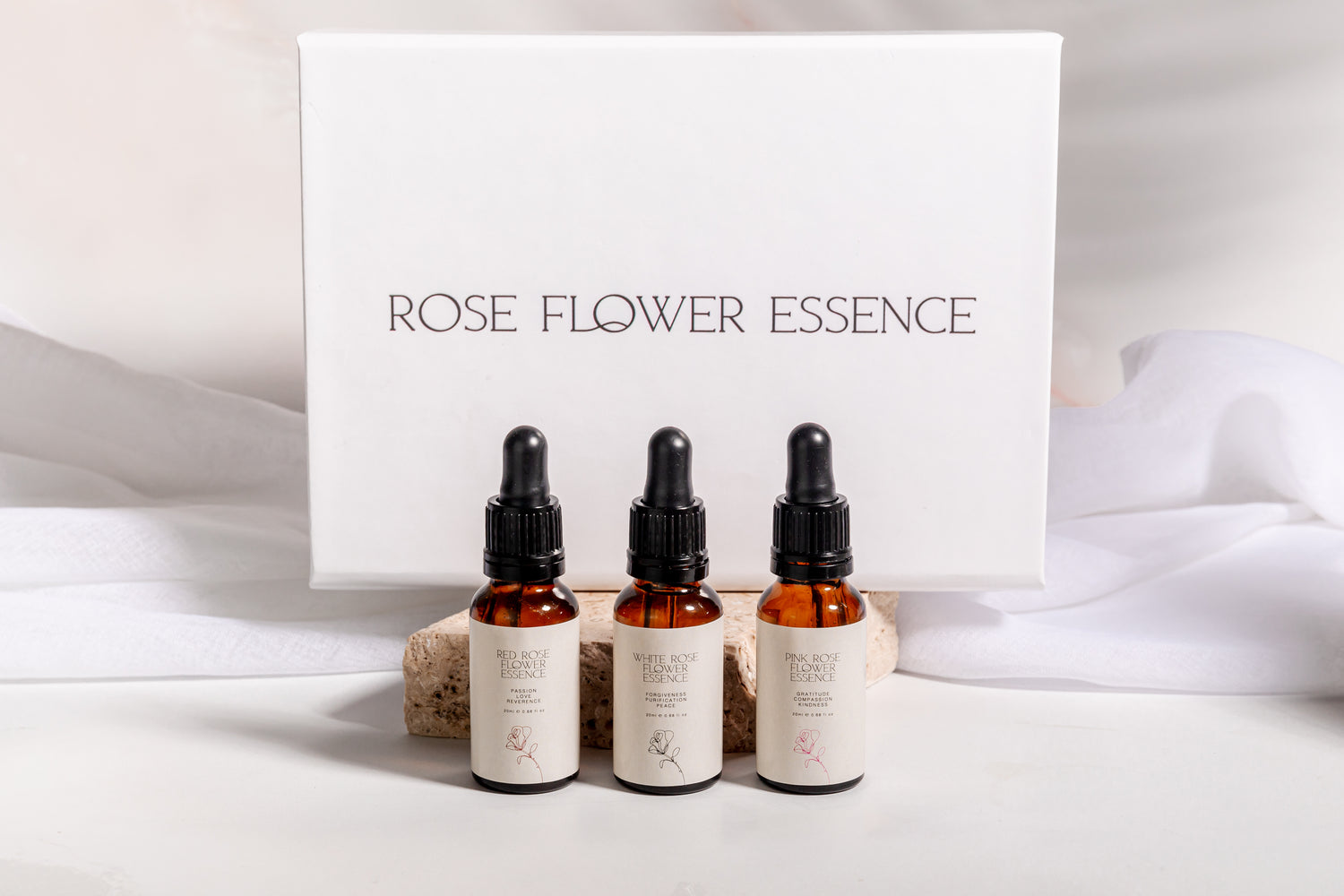 Proudly Australian Made
Our boxes are made and printed locally in Melbourne, Victoria, Australia. We are proud to have kept this process local as most companies print offshore. This means you will be supporting not one, but two small local businesses.

Your postage is 100% guilt free packaging as it is fully compostable and made from plants which means you will be contributing to saving the planet too.